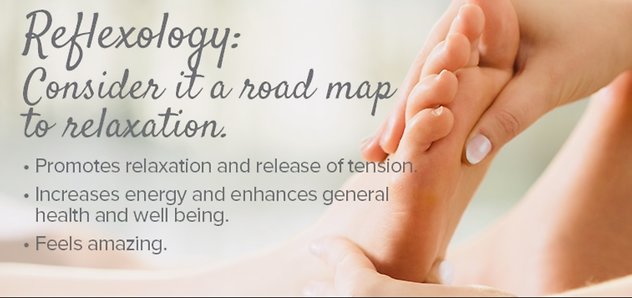 Can Reflexology Help Me?
Having worked in the City for many years in a fast and somewhat stressful environment, I have seen first-hand how stress impacts on people. These constant pressures can weaken the body, affecting sleep and energy levels which may eventually lead to illness. Reflexology is marvellous for relieving stress and tension, helping to improve your overall well-being.
How can RLD help me? (Reflexology Lymphatic Drainage)

RLD is an award winning reflexology technique which focuses on stimulating the lymphatic reflexes on the feet. The aim is to cause an effect on the lymphatic system in the body. It is a unique sequence that has been researched and developed by Sally Kay, whilst working in Cancer Care.

Breast cancer is the most common cancer in the UK. Following medical treatment approximately 20% of breast cancer patients suffer lymphoedema of the arm and may experience psychological or emotional difficulties due to altered body image. (Mackereth & Carter 2006) Research suggests that cancer survivors with lymphoedema are more disabled and experience a poorer quality of life and more psychological distress than survivors without lymphedema. (Bernas et.al.2010, Pyszel et.al 2006, Ridner 2005).

Those who suffer with lymphoedema report:

Pain, heaviness and aching
Distorted limb shape
Reduced mobility or range of movement
Tight fitting clothes or having to go up an extra dress size
Loss of confidence
Anxiety and depression
Altered ability to complete everyday tasks, employment and leisure activities

RLD can help with the reduction in swelling by using the RLD technique improving movement, tightness of clothes, the arm feeling lighter allowing more mobility and regaining your confidence again.

What is Reflexology?
Your feet reflect the micro-systems in your body, like a map. As a reflexologist, I use this map to apply finger techniques and pressures as a specialist massage.
When treating your feet, I will feel for different textures beneath the tissue - where some areas may also be sensitive to touch - taking into account heat, colour and shape. These will all play a part of recognising which corresponding areas of your body need some care and attention, helping you to find balance.
It is usually safe to have reflexology alongside conventional medicine, but if you are having medical treatment, please speak to your GP before we begin.
I have treated clients who have struggled with:
Headaches and migraines
Back pain
Stress and tension
Muscle and joint pain
Arthritis
Anxiety and depression
Recovering from stroke
Tiredness, fatigue and ME
Insomnia and sleep disturbances
Reflexology Lymph Drainage
Swollen ankles and legs
Recovering from broken bones
Recovery after cancer treatment
Strengthening the body when a serious disease has been detected




If you would like to book an appointment or ask any questions about reflexology in Hockley, near Rochford and Rayleigh, please call or e-mail me.